With debate on Capitol Hill on the future of the Renewable Fuel Standard (RFS) and pressure from oil companies to lower cellulosic fuel mandates as part of the legislation, BBI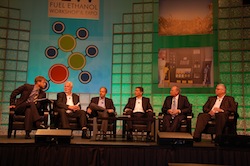 realized that the time was right to feature a panel discussing the progress to commercialization of several major renewable fuels players to bring advanced biofuels to market.
All the World's a Stage: A Front Row Seat to the Construction and Commissioning of the Industry's First Cellulosic Facilities panel during the Fuel Ethanol Workshop in St. Louis, Missouri, was moderated by Brooke Coleman, executive director of the Advanced Ethanol Council. Also on the panel (from left to right):
Henrik Maimann, CEO New Bio Solutions Section & VP, Dong Energy Power
Mark Niederschulte, Chief Operating Officer, INEOS Bio
Steve Mirshak, Global Business Director – Cellulosic Ethanol, DuPont Industrial Biosciences
Chris Standlee, Executive Vice President, Abengoa Bioenergy
Wade Roby, POET-DSM Advanced Biofuels
Each panelist gave an update on their company's project and from there, an open question and answer dialogue occurred. One of the major themes: how to bring and keep investments in the advanced biofuels sector to ensure commercialization is achieved.
Listen to the full panel discussion here: All the World's A Stage