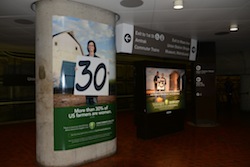 The Corn Farmers Coalition is educating policymakers in D.C. about how U.S. family farmers produce corn, (also used to produce ethanol) the top crop in the nation. Sponsored by the National Corn Growers Association (NCGA) and its state affiliates, the campaign showcases how innovative and high-tech corn farmers have become by introducing a foundation of facts about farmers and farmers. The campaign will also benefit consumers, who according to a recent ZimmPoll, ag marketing is "not so good".
"This has always been a crucial time of year in Washington to make sure our lawmakers and those who influence them remember the importance of corn farming to our nation and our economy," said Pam Johnson, NCGA president and a corn grower in Iowa. "Our state corn checkoff programs have seen the importance of this program each year for educating a very important audience about this essential crop  and its high value."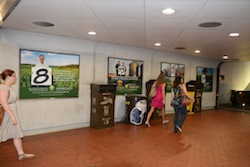 The campaign launched June 1, 2013 with a major advertising presence in Washington that puts prominent facts about family farmers in front of thousands on Capitol Hill, starting with "station domination" at Union Station through the month of June. The large-format ads will travel to the Capitol South Metro station for July. In addition, online advertising will appear influential Hill publications.
Among the facts presented in the campaign, from the U.S. Department  of Agriculture: America's corn farmers exported $7.6 billion worth of corn last year—one of the few U.S. products with a trade surplus; 95 percent of all corn farms in America are family owned, and family farmers grow 90 percent of America's corn; and thanks to advanced technology, last year corn farmers delivered the 8th largest crop – despite the worst drought since 1936.
In addition, the campaign also features important messages from Field to Market, the Alliance for Sustainable Agriculture: America's corn farmers have cut soil erosion 67 percent by using innovative conservation methods; the energy used to grow a bushel of corn decreased 43 percent, thanks to family farmers' use of technology; the land required to grow a bushel of corn has decreased by 30 percent; and  corn farmers have reduced greenhouse gas emissions by 36 percent, thanks to improved farming practices.