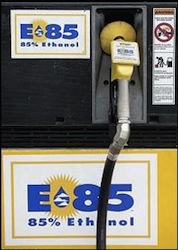 As gas prices continue to rise, the ethanol industry is taking a bold step to ensure consumers save at the pump. While E10 and E15 are saving drivings money with each gallon, now flex fuel drivers who use E85 can save even more money. Siouxland Energy and Livestock Cooperative (SELC), a 60 million gallon per year ethanol plant in Sioux Center, Iowa, is now offering E85, a fuel blend of 85 percent ethanol and 15 percent gasoline, directly to retailers and is passing in the RIN value generated by blending ethanol directly to them. The hope, the retailer then passes their saving on to consumers.
According to OPIS, recent prices for E85 at Iowa terminals were about $2.69 per gallon, while SELC listed the price for their E85 at only $2.17 per gallon. Last week, Absolute Energy of St. Ansgar, Iowa announced the implementation of the same program.
"Here at Siouxland Energy, we're passing on the RIN savings to the consumer, and it's making for some very attractive E85 prices," said SELC Commodity Manager Tom Miller. "I think ethanol plants are growing tired of watching a middleman pocket the RIN value to the detriment of consumers. Our plant wants consumers to understand the real value of homegrown ethanol, so we've cut out the middleman and we're selling E85 directly to retailers at a much greater discount."
A RIN, or renewable identification number, is a free credit earned by the blender of ethanol that can then be sold on the open market to oil refiners, which use the credits to demonstrate compliance with the federal Renewable Fuel Standard (RFS).