The Sierra Club is celebrating a successful campaign, "100 Days of Action to Fight Climate Disruption," that began with President Obama's inauguration and concluded on Earth Day. The goal of the campaign was to push the president to take bold action that would avert the climate crisis. According to Sierra Club, over one million Americans from across the country participated in events as well as signed petitions and sent letters to decision makers.
"In his inaugural address and again during the State of the Union, President Obama invited a national climate conversation. Over the past one hundred days, more than one million Americans responded to that invitation with a demand for bold action on climate disruption," said Michael Brune, executive director of the Sierra Club. "The past one hundred days have seen major climate victories — from President Obama's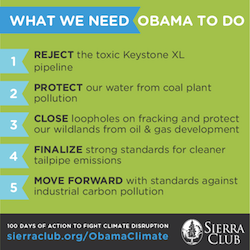 designating five new national monuments that will protect our wild places from fossil-fuel drilling and mining, to the Mayor of Los Angeles announcing that the city will be coal-free by 2025. Now we're looking to the President to follow through with his climate commitments and secure his legacy with bold climate solutions like rejecting the Keystone XL tar sands pipeline."
The 100 Days of Action to Fight Climate Disruption campaign launched on January 14, just before President Obama's second inauguration, and provided a framework of administrative steps the President can take to help curb climate disruption. During the past 100 days, a Forward on Climate Rally was held in Washington, D.C. in what the Sierra Club is calling the country's largest rally with more than 50,000 people in attendance. In addition, climate advocates met with policy makers and held Climate Legacy Town Hall meetings and other grassroots events.
"With President Obama well into his second term, the next few months and years will be pivotal in the fight to address climate disruption and move America toward clean energy," said Michael Brune, executive director of the Sierra Club. "Over the past one hundred days, the American people have shown that they are ready and willing to join the President in this fight that is not only winnable, but one in which we are already beginning to succeed. Working together, the President and the American people can fight the climate crisis, reenergize the American economy, create millions of jobs, and give our children the type of future they deserve."