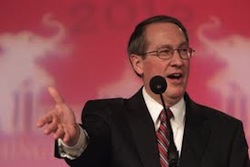 This afternoon, Reps. Bob Goodlatte (R-VA), Jim Costa (D-CA), Steve Womack (R-AR), and Peter Welch (D-VT) released the RFS Reform Act in the U.S. House of Representatives. During a press conference to "unveil:" the bill Goodlatte said, "The RFS debate is no longer just a debate about fuel or food. It is also a debate about jobs, small business, and economic growth. The federal government's creation of an artificial market for the ethanol industry has quite frankly triggered a domino effect that is hurting American consumers, energy producers, livestock producers, food manufacturers, and retailers. The broad coalition of organizations supporting this legislation echo the same sentiment: the RFS is not working."
The representatives say that the RFS is causing food prices to go up, and has not provided relief for consumers at the pump.  In fact, they say, citing the RFS, the EPA is setting the target for refiners to blend cellulosic biofuels into gasoline higher than the amount of cellulosic biofuels that exists. When these non-existent fuels cannot be blended refiners are financially penalized, which ultimately gets passed on to consumers at the pump.
Goodlatte added, "The RFS Reform Act will eliminate corn-based ethanol requirements, cap the amount of ethanol that can be blended into conventional gasoline at 10 percent, and require the EPA to set cellulosic biofuels levels at production levels. Renewable fuels play an important role in our energy policy but should compete fairly in the marketplace. This legislation will bring the fundamental reform this unworkable federal policy needs now."
The RFS Reform Act is supported by a diverse group of more than 40 organizations.
The renewable fuels industry is aghast at the bill saying it would impede the progress of the renewable fuels industry and takes the choice out of the hands of consumers,  all while protecting the virtual monopoly that oil companies have over America's transportation fuels.
"As this legislation is introduced, let's remember that instead of instead of protecting oil companies, Congress should address what are actually hurting America's families and businesses: high gas prices and dependence on foreign oil. Continuing to develop our renewable industry is the only way to address both. Rep. Goodlatte's bill would keep gas prices at the mercy of global oil markets and rob consumers of clean, competitive fuels," said Fuels America in a statement.
Executive Vice President Brian Jennings also criticized the legislation. "Based on the success of the RFS and by Congressman Goodlatte's own admission, it is unlikely Congress would agree to an outright RFS repeal, but make no mistake, his so-called 'reform' legislation is equally misguided and clings to the past when our reliance on expensive oil hurt the pocketbooks of American families.  Killing the corn ethanol provisions of the RFS and prohibiting consumers from having the option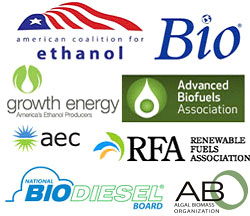 to buy E15 don't constitute 'reform,' they are heavy-handed government regulations coming from members of Congress who apparently don't like how the RFS ensures competition in the fuel market."
Congressman Goodlatte (R-VA) gets points for being creative. Disguised as a reform effort supportive of advanced biofuels, the RFS Reform Act actually guts the RFS by eliminating key provisions that require oil companies to actually change their behavior and buy renewable fuels," said Brooke Coleman, Executive Director of the Advanced Ethanol Council. "It is not a coincidence that the American Petroleum Institute (API) has been asking for these modifications to the RFS for years. But the RFS Reform Act is even more disingenuous than that. While stating that he merely wants ethanol to compete in a free market, in the same breath Congressman Goodlatte proposes to ban ethanol from 90 percent of the market. If there ever was a definition of free market fit for the oil industry, this is it."
Tom Buis CEO of Growth Energy added, "The RFS is the most successful energy policy this nation has enacted in the last forty years. It creates jobs at home that cannot be outsourced, revitalizes rural economist and helps reduce our dependence on foreign oil. Any changes to the program would have a devastating effect, creating uncertainty in the marketplace and halting investment in new technologies for biofuel production. This "reform" bill only has special interests in mind and advocates for the current failed status quo of our reliance on foreign oil. Not only is this legislation short sighted, it prevents free market access for a price competitive product."