Growth Energy and its members are heading to Capitol Hill today to meet with legislators regarding the benefits of the ethanol industry. In particular, participants will discuss the value of E15, the Renewable Fuel Standard (RFS) and the issues surrounding Renewable Identification Numbers (RINs). This morning, the Growth Energy leadership team, CEO Tom Buis, and Co-Chairmen of the Board General (Ret.) Wesley Clark and Jeff Broin (POET) held a brief press call to discuss their efforts on the hill.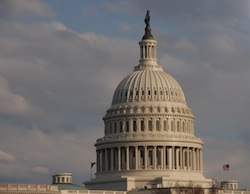 During the call, Jeff Broin explained that the RFS guarantees market access to renewable fuels because the volume of ethanol in the market is controlled by the competition, the oil industry. Today, the 10 percent goal that has been created by all the laws (10 percent of all fuel blended in the U.S. contains ethanol) but the potential is much larger. Broin said the country could be at 30 percent of the fuel by 2022 if we meet the RFS goals.
Broin noted that the oil industry has done everything it can to bar market access for E15 from erecting legal and regulatory challenges to a very expensive PR campaign with misinformation. But for the RFS to be successful, the blend wall must be scaled and this can be done by allowing consumer choice at the pump with E15.
General Clark noted that the RFS is the most successful energy policy the U.S. has seen in 40 years. It's working. But people, such as the oil industry, food industry and the poultry industry would like consumers to believe this is not the case.
"When you open market access," said Clark, "the market will sort itself out if given the chance. "But when you're dealing in the fuels business you're going against the greatest economic force on the planet, which is the petroleum industry. And they're doing everything in their power, including working through non-governmental organizations, some governments, warning them,imploring them not to move away from their exclusive reliance on petroleum. It just shouldn't be."
"So the RFS is the lead effort in the move to break the monopolistic grip of the petroleum industry on liquid fuels. And we're right now with the RFS where we're really getting traction," Clark concluded.
Listen to the press conference here:Growth Energy Heads to the Hill