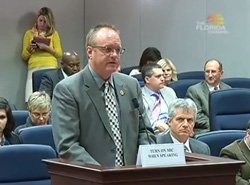 Yesterday I traveled to Tallahassee, Florida to testify at a hearing of the Florida House of Representatives Regulatory Affairs Committee on HB 4001 which is a bill to repeal the Florida Renewable Fuel Standard. This hearing was actually an extension of one held previously that ran out of time to conclude. You can watch the session here. The portion on HB 4001 starts about 39 minutes in and you can easily fast forward to it.
When you see the bill sponsor, Representative Matt Gaetz, introduce the session you'll understand my compulsion to attend to try to help clear up the numerous things he said about ethanol that are just plain wrong. These include the now completely dis-credited food vs. fuel debate, that it harms automobile engines, that it is bad for the environment, etc. It's all out of the play book of large oil companies and large food company interests. I was not alone in opposition to this bill. Some of the others testifying in opposition included Bradley Krohn, President, United States EnviroFuels, LLC and Bobby Likis, Bobby Likis Car Clinic. There were a number of others that you'll see in the video recording.
Unfortunately, the bill passed by a narrow margin. A companion bill is in the Florida Senate, SB 320. After the session I spoke with both Bradley and Bobby to get their thoughts on the action taken by this committee.
Bradley says his company has been developing a 30 million gallon advanced ethanol plant project which will use sugar cane and sweet sorghum as primary feedstocks. They are very close to construction. He says the House committee got it wrong, buying into a lot of myths about ethanol. This sends a chilling effect to the financial community for investing in advanced biofuel projects in the state of Florida. His company is in the process still of funding their project. He says it sends a message that Florida doesn't care about economic stimulus and job creation. There was an attempt to pass this bill last year that stalled on the Senate side and he hopes that will happen again this year.
Listen to my interview with Bradley Krohn here: Interview with Bradley Krohn
Bobby Likis also testified and corrected a number of factual errors that were presented to the committee, especially on how ethanol performs in an engine. He was very disappointed by the committee vote in the face of overwhelming evidence that the Florida RFS is working and reducing the cost of gas to Floridians. He says it will make him fight harder to make sure the bill doesn't pass at the Senate. He says that if it does pass and the price of gas goes up in Florida we should call it a Gaetz Tax!
Listen to my interview with Bobby Likis here: Interview with Bobby Likis