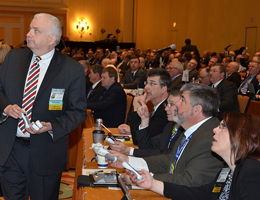 Ethanol was high on the priority list for delegates to the National Corn Growers Association Corn Congress policy meeting last week during the 2013 Commodity Classic.
NCGA President Pam Johnson said they will continue to fight the attacks on both the Renewable Fuel Standard and the approval of E15 in the marketplace. "We will not let these attacks stand," said Johnson. "We know our potential to produce is very great and we know that we need to continue to build that demand."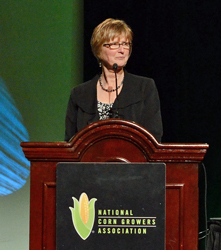 NCGA notes that even with last year's record drought, more corn growers than ever before had yields of 300 or higher on the National Corn Yield Contest, demonstrating the ability for farmers to meet the demand for corn in all markets, including both livestock feed and ethanol production.
Johnson says growers have been hit with demand destruction because of the drought but "we hope to plant a really great corn crop this year and get some of that back."
Of course, getting a comprehensive five year farm bill passed this year after being delayed is really the top priority for corn farmers and NCGA supports fundamental changes to farm programs that include effective and affordable federal crop insurance that will provide assistance to growers only when it is most needed.
Listen to Pam Johnson summarize issues important to corn growers at the 2013 Commodity Classic: NCGA President Pam Johnson