American Ethanol will be continuing its partnership with Richard Childress Racing and driver Austin Dillon, who won Rookie of the Year last year, for the 2013 NASCAR season. Dillon will race the No. 33 American Ethanol Chevrolet in the NASCAR Sprint Cup Series at Michigan International Speedway on June 16 and will drive a RCR-fielded entry in the NASCAR Camping World Truck Series at Eldora Speedway on July 24 with an American Ethanol paint scheme.
"We want to show the people coast-to-coast there is a great alternative to imported oil and our association with NASCAR and RCR is doing that extremely well," said Jon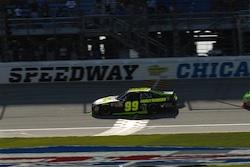 Holzfaster, a Paxton, NE farmer and chairman of the National Corn Growers Association's NASCAR Advisory Committee. "Ethanol is also responsible for bringing a rural renaissance from Main Street to the family farm."
In addition to the races mentioned above, American Ethanol, a program that seeks to expand consumer awareness of the benefits of ethanol and E15, will be an associate sponsor of Dillon's No. 3 AdvoCare Chevrolet in the NASCAR Nationwide Series race on Saturday, Feb. 23, and Honey Nut Cheerios No. 33 car in the Sprint Cup Series this weekend at Daytona International Speedway.
"American Ethanol is extremely pleased to once again partner with Austin Dillon, Richard Childress and the entire RCR team to help promote a sustainable homegrown American fuel that is better for our environment, reduces our dependence on foreign oil and creates jobs right here in the U.S., while revitalizing rural economies across America," said Tom Buis, CEO of Growth Energy.
As part of the sponsorship, Dillon has become and official spokesperson for American Ethanol. "It feels good to be able to help spread the news about American Ethanol and encourage every American to run the fuel of the future, American Ethanol, in their personal vehicles," said Dillon. "If American Ethanol can withstand the rigors of NASCAR, it can withstand everyday driving. Homegrown biofuels like American Ethanol have stepped up to help our nation's economy, and are proving to be a better fuel. I am proud to wear the American Ethanol colors in NASCAR and I hope I can bring them to Victory Lane in the NASCAR Sprint Cup Series and the NASCAR Camping World Truck Series in 2013."