Every day you hear more and more about solar photovoltaics (PV). But what exactly are they? Is the technology good? Why should a business adopt solar PV? All of these questions are explained in the DoShort: "Solar Photovoltaics Business Briefing," by David Thorpe. I actually read the brief in an airport between flights and came away with a better understanding of solar PV technology and what is on the horizon for emerging solar PV technologies.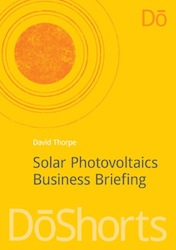 This was interesting: a study done by the German Aerospace Centre (DLR) concludes that less than 1 percent of suitable land would be needed to cover the current electricity consumption of the region, as well as Europe. According to Thorpe, Desertec has estimated the cost of achieving this by 2050 at $400 bn. Much of this will be investment in the grid connection infrastructure. Others believe that it would be cheaper to generate the same amount of power closer to home. Although Thorpe presents the arguments for both sides, he doesn't pick a winner.
There were several things I particularly liked about the book. One was Thorpe included a formula for calculating output. This varies by country and project. In addition, he included specific advice to installers, general design advice, ideas on where a solar PV project should be situation (roof versus ground mounted), costs, how to estimate cost savings (once again this may vary by project and country) and also gives advice on sourcing and how to talk to suppliers.
While the majority of the book is focused on European projects, legislation and funding schemes, the basic information is applicable no matter where your business resides. For those looking for a basic understanding of solar PV and enough information to research a project of your own, then this business brief is definitely for you.
Win a free copy of this DoShort. Email Joanna Schroeder with the book title in the subject line. Include your full contact information in the body of the email. The winner will be announced in next week's energy.agwired.com newsletter.