Can you define sustainability? More than likely, but it is also likely that your definition is different than a colleagues, family member or friend. The green movement touts sustainability but how do you actually integrate the idea of sustainability into your business? To answer this question, I turned to the DoShort, "Green Jujitsu," written by Gareth Kane.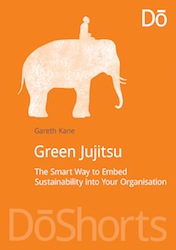 The book focuses on how to help businesses become more sustainable and how to make it stick. The answer? Harness the strengths of your employees rather than focusing on their weaknesses. Kane aptly uses the analogy of the martial art of jujitsu. This concept is focused on using your opponents strength, energy and momentum against them and levering into submission. While Kane doesn't promote bringing your employees to submission, he does promote the idea of bringing people on board with sustainability initiatives by understanding their strengths and weaknesses.
I often struggle with the way the renewable energy industry promotes itself and have come to believe that the industry is not using the right language and stories to gain public and policy support. In some regard, I feel I've found an ally in Kane and his message.
He notes that oftentimes, "The green movement has a well-earned reputation for presenting sustainability as the hair-shirt option….We are bombarded with litanies of how we should be ashamed of ourselves as a species….Hand up who wants a guilt trip? The answer is to make it fun; ditch the hair-shirt and make sustainability sexy."
In other words, make sustainability attractive, positive and compelling.
While this book hits the mark on guiding a business through the process of engaging employees into sustainability practices that will also help to save money, it is also a good lesson in messaging for the industry.  This book should be read by both sustainability leaders and champions, but also by those who are helping the industry to craft its sustainability messages.  Green Jujitsu is a "art" the industry could, and should get behind.