As always, the Global Perspectives and Washington Insiders panels at the National Ethanol Conference were as entertaining as ever. The panels routinely feature representatives from other organizations that may not share the same viewpoint of the Renewable Fuels Association (RFA), allowing the opportunity for some interesting dialogue.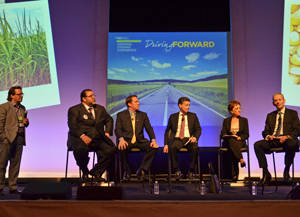 Global Renewable Fuels Alliance spokesperson Bliss Baker served as the moderator/referee for the global panel which featured RFA CEO Bob Dinneen; Canadian Renewable Fuels Association president Scott Thurlow; Rob Vierhout, Secretary General of ePURE; UNICA CEO Elizabeth Farina; and Poul Ruben Andersen with Novozymes A/S.
Noting the panel placement of Canadian Thurlow between Dinneen and Vierhout, Baker commented, "Some of you may be familiar with Canada's tradition of peacekeeping," he said. "Scott may have to assume that role of peacekeeper when we talk about our first issue" which was Europe's trade challenge to U.S. ethanol imports. "I find it a little bizarre that we are in this spat that we are in today, attacking one another," Baker said, throwing the floor open to Veirhout to explain "what were you thinking?"
Listen to the panel here: NEC 13 Global Panel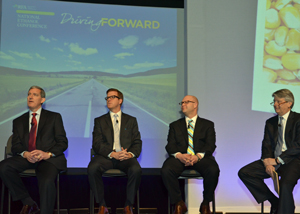 This year's Washington Insiders panel included (L to R) – Marty Durbin, Executive Vice President, American Petroleum Institute; Shane Karr, Vice President, Federal Government Affairs, Alliance of Automobile Manufacturers; Louis Finkel, Executive Vice President, Government Affairs, Grocery Manufacturers Association; and James Massie, Principal, The Alpine Group (the "insider's insider").
Interesting exchange on the panel came between Dinneen and GMA's Finkel regarding the impact of the Renewable Fuel Standard. Challenging Finkel's claim that the production of corn ethanol under the RFS has had a "significant" impact on food costs, Dinneen asked if he would say that oil prices also have a significant impact on the price of food. "I don't think it has a significant impact," Finkel replied. "I think it has an impact on the cost of transporting our food."
"You're a good advocate for your industry," Dinneen responded.
Listen to the whole panel here: NEC 13 Insiders Panel
2013 National Ethanol Conference Photo Album

2013 NEC Golf Tournament Photo Album