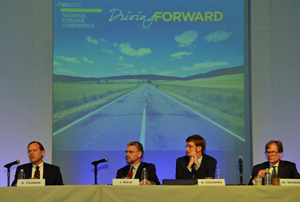 Representatives from corn growers, the oil industry, advanced ethanol and the investment community addressed the future of the Renewable Fuel Standard (RFS) during the 18th National Ethanol Conference.
The panel moderated by Geoff Cooper with the Renewable Fuels Association included National Corn Growers Association CEO Rick Tolman, John Reese with Shell Oil Products, Advanced Ethanol Council executive director Brooke Coleman, and Mark McMinimy with Guggenheim Securities.
Listen to the discussion here: NEC Future of RFS panel
NCGA's Tolman told the audience that the corn growers believe the RFS has been a huge success but he does believe there are implementation challenges going forward and one he noted was the language that restricts corn from being considered an advanced biofuel. "The industry has a petition at EPA right now to see if we can have a pathway approved for corn fiber from the kernel as an advanced biofuel," said Tolman, and in the future they hope to address the arbitrary restriction on corn starch as an advanced biofuel.
Tolman says the RFS will be a topic of discussion with corn growers at the upcoming Commodity Classic in Orlando later this month.
Listen to an interview with Rick here: NCGA CEO Rick Tolman
2013 National Ethanol Conference Photo Album

2013 NEC Golf Tournament Photo Album