American Ethanol sponsored driver Austin Dillion has won the 2012 NASCAR Nationwide Series Sunoco Rookie of the Year award. The ethanol industry has congratulated him and now fans have an opportunity to congratulate Dillion during the American Ethanol live Twitter chat that he will host Monday, December 10, 2012 from 10:30 am to 11:30 am CST.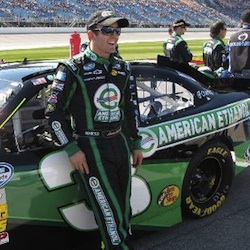 Dillon was officially named the 2012 NASCAR Nationwide Series Sunoco Rookie of the Year at Homestead-Miami Speedway. He joins his younger brother, Ty Dillon, as a 2012 Sunoco Rookie of the Year. The younger Dillon clinched the NASCAR Camping World Truck Series version of the award on Friday evening.
"All of the American Ethanol partners are so excited for Austin," said National Corn Growers Association NASCAR Advisory Committee Chairman Jon Holzfaster. "Rookie of the Year is a big win both for him personally and for farmers across the country. With all eyes on Austin, NASCAR fans also get to see the performance and benefits another homegrown winner offers when E15 fuels the race. Every car in every series races to the finish with E15 in the tank, but we are particularly proud that such a talented young driver speaks on our behalf."
Austin Dillon, who drives the No. 3 car for Richard Childress Racing, culminated his first full season in NASCAR's No. 2 tour with two race wins, sweeping both Kentucky Speedway events, along with 16 top-five finishes, 27-top-10s and 3 pole awards. Dillon finished third in the championship point standings and was formally honored for his 2012 accolades at the NASCAR Nationwide Series and Camping World Truck Series championship awards banquet.