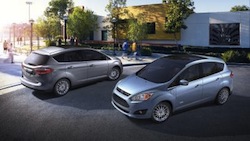 General Electric (GE) is purchasing 2,000 C-MAX Energi plug-in hybrids as part of its commitment to convert half of its global fleet to alternative fuel vehicles. The purchase ups GE's alternative vehicle fleet to 5,000 in its goal of 25,000 vehicles. The EPA has rated C-MAX Energi with a 108 miles per gallon city rating and 620 mile single tank range. In addition to the purchase, Ford, who manufactures the electric vehicles (EVs), will promote GE's WattStation charging station and CNG in a Box, natural gas fueling station with commercial buyers.
"Ford is launching six new electrified vehicles – a big bet that fuel prices will continue rising and lead to more demand for advanced fuel-efficient vehicles," said Ken Czubay, Ford vice president, U.S. Marketing, Sales and Service. "We are pleased to partner with GE, a company that is charting a similar course, to promote advanced technology and energy savings."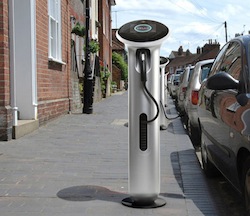 The two companies will also work with researchers from Georgia Institute of Technology to study GE employee driving and charging habits, with the goal of improving all-electric driving and charging performance. Researchers will use Ford's MyFord Mobile app – with real-time battery charge status and value charging that automatically recharges at lower-cost, off-peak electricity rates.
Mark Vachon, vice president of ecomagination at GE, said "At GE, we are focused on providing our customers and our fleet with more economically and environmentally efficient vehicles. The Ford C-MAX Energi plug-in hybrid is a great addition to our expanding fleet of alternative fuel vehicles."
According to Professor Bert Bras of Georgia Tech, understanding driving and charging habits are key to advancing vehicle charging infrastructure. He said the acceleration of research and development of new technologies will help to improve efficiency  driver satisfaction and environmental benefits. The findings of the study will be shared with commercial customers to provide insights and help foster continued adoption of EVs into fleets.