Ford Motor Company has announced that it will triple its production of electric vehicles (EVs) by 2013. The company plans to invest more in its C-MAX Hybrid and C-MAX Energi plug-in hybrid vehicles. In addition, Ford already has on the market the Transit Connect Electric and the Focus Electric will debut later this year. Production of these vehicles is scheduled to begin at the company's Michigan Assembly Plant in 2012 and will locally source battery packs and electric drive transaxles built by Michigan workers.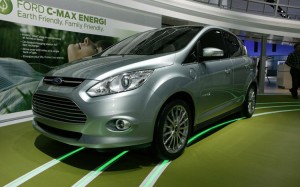 "Customers have come to expect fuel efficiency with every new vehicle Ford delivers today, and now we are further differentiating our electrified vehicle lineup with something else people truly value – choice," said Jim Farley, Ford's group vice president of Marketing, Sales and Service. "Whether people want a hybrid, a plug-in hybrid or full battery electric vehicle, we have a family of vehicles for them to consider, providing a range of options to best meet their needs and support their driving habits and lifestyles."
Today, Ford sells approximately 35,000 electrified vehicles a year, led by the Fusion Hybrid and Escape Hybrid. In par with is commitment to EVs, Ford plans to produce more than 100,000 each year by 2013. The new Ford C-MAX five-passenger vehicle, which is the base for the C-MAX Hybrid and C-MAX Energi plug-in hybrid, is already a hot seller in Europe. To date, more than 100,000 C-MAX models have been sold in the country since their launch in late 2010. As part of this initiative, Ford will also increase production of these models for the European market.
"European customers are snapping up our C-MAX five-passenger models, telling us they love the vehicle's sporty appearance, driving quality, interior comfort and clever use of space," said Farley. "We plan to be aggressive in delivering products like this that people really want and make smart decisions supporting our One Ford plan."
The C-MAX model launch in North America will signal the first time Ford customers have the choice of a dedicated body style for a range of Ford EVs.