As motorists head over the roads to visit friends and family for the holiday, they can be thankful for ethanol helping to lower gas prices and make our nation less dependent on foreign oil.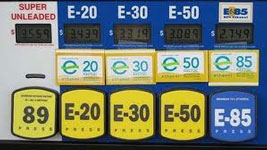 The Renewable Fuels Association notes that ethanol is actually helping reduce the cost of the Thanksgiving holiday for the average American family. More than 39 million Americans will take to the road for their Thanksgiving holiday, traveling an average distance of 588 miles, according to AAA. That means the average American family traveling by automobile this holiday will save $29.13 on gasoline purchases because of ethanol. That deduction is based on recent economic analysis from Louisiana State University, the University of Wisconsin and Iowa State University
"Thanks to ethanol, hardworking American families will get a break as they drive to spend the Thanksgiving holiday with loved ones," said Bob Dinneen, President and CEO of the Renewable Fuels Association. "The average American family will save $29.13 because ethanol helps lower the price of each and every gallon of gasoline. Ethanol and the Renewable Fuel Standard (RFS) are also helping to reduce this country's dependence on foreign oil, thus creating a stronger country and a stronger economy. Ethanol is a product made by Americans for Americans and we are proud that on this most American of holidays that we can offer a solution to sky-high gas prices,"
In addition, Dinneen notes that while some livestock and poultry producers are claiming that ethanol is driving up the price of food, meat in particular, turkey prices overall are lower this year than the last two years, according to the Bureau of Labor Statistics – and the cost of the Thanksgiving day turkey this year is up less than four cents a pound compared to last year, according to the American Farm Bureau Federation. In fact, AFBF reports that this year's Thanksgiving dinner feast – including a 16-pound turkey, mashed potatoes, cranberries, relish tray, and pumpkin pie – is $49.48 – up only one percent, or 28 cents, compared to last year.
Farm Bureau has been doing the Thanksgiving dinner survey since 1986, when the cost of the meal was $28.74. That's an increase of 42% in 26 years. To put that in perspective, the average price for a new car in 1986 was $9255 – this year it was $30,274 – an increase of a whopping 227%. A great reason to be thankful for our food and our farmers this Thanksgiving!