SoloPower has added another patent to its growing solar portfolio. The company specializes in the development and manufacture of thin-film solar cells and modules. This patent is the company's 50th with 41 patents in the U.S. and nine patents internationally. SoloPower was the first to receive certification of flexible CIGS panels to both UL and IEC standards.
"The strength of SoloPower's intellectual property portfolio enables us to cover all key aspects of our solar solutions, technology, and manufacturing processes, giving us a competitive advantage in the marketplace," said Dr. Mustafa Pinarbasi, Chief Technology Officer, SoloPower. "By developing and owning the new technologies and manufacturing methods that are critical to our integrated solar solutions, we are constantly able to increase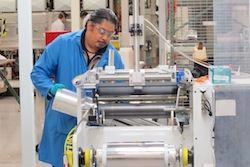 our flexible, lightweight module efficiencies while driving down costs."
The company says its approach embodies critical technology, manufacturing, and cost advantages that enable large-scale "fab-style" production of high-efficiency CIGS-based photovoltaic cells. The cells are packaged into unique, flexible, lightweight solar modules. Non-penetrating kit technology was developed for installation.
Company CEO Tim Harris added, "SoloPower's world-class technology team is constantly pushing the envelope, and our innovations will continue to help us make rooftop solar the primary energy source for the world's commercial and industrial buildings. We're excited as we prepare to open our high-volume manufacturing facility in Portland, Oregon, which will enable us to meet the strong demand we're seeing from our customers around the world."
SoloPower will be showcasing its solar power technologies September 11 to 13, 2012 at Solar Power International in Orlando, Florida.