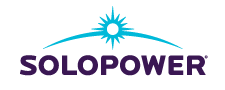 California solar cell maker SoloPower received ETL certification for its next-generation, thin, flexible SF1, SP1, and SP3L SoloPanels to UL 1703 and the International Electrotechnical Commission (IEC) standards. Company officials say this just adds to to its track record on flexible solar modules:
[Tim Harris, CEO, of SoloPower says,] "It represents another step towards our goal of making solar the main source of energy for commercial and industrial buildings worldwide…"
"Being ETL certified to both UL and IEC standards is a significant milestone on the road to full scale commercialization," said Bruce Khouri, President & Chief Commercial Officer and a building integrated photovoltaics (BIPV) pioneer. "In addition to bringing to the market world-class, high efficiency, flexible modules, our first-of-their-kind rooftop installation kits are designed to rapidly expand the versatility for commercial and industrial rooftop solar applications. With BIPV as one of the fastest growing segments of the solar industry, we are thrilled to be able to share our unique solutions at Intersolar."
Another SoloPower product, the SP3S SoloPanel, has been ETL certified to UL standards and is anticipated to be certified by the IEC soon. The SF1 and SP1 SoloPanels are made for twelve-inch and sixteen-inch standing-seam metal roofs, with the SP3L and SP3S SoloPanels best for commercial and industrial low-slope buildings. The company is also boasting three first-of-their-kind, easy, non-penetrating installation kits: the SoloSaddle(TM), SoloEdge(TM), and the SoloBridge(TM), more versatile on a variety of roofs.