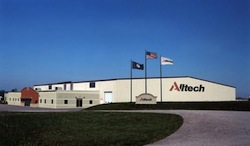 Alltech has installed a 60-foot ethanol distillation tower at its production facility in Springfield, Ky. The plant produces natural animal health and nutrition products. The company invested $4 million dollars in new yeast-production technology, a core of their nutrition products. The new system has the ability to process 52,000 lbs of liquid yeast each day and produce 20,000 gallons of ethanol per week.
This same system will be installed in Alltech's Thomasville, Georgia production facility that is expected to be completed by the end of 2012.
In addition the company has expanded into algae production. Alltech Algae, based in Winchester, Kentucky is one of the largest algae production sites in the world according to the company. The company continues to invest in extensive research and production as it looks to the future. The company is also expanding operations in downtown Lexington at the Alltech Lexington Brewing and Distilling Co., with a new distillery scheduled for completion in September of 2012.