Animal health and nutrition leader Alltech recently wrapped up its first conference on algae.
This company press release says the invitation-only conference, entitled "Algae: The Growth Platform," was the company's first international conference, drawing 60 attendees from around the world to Lexington, Kentucky:
"This conference is important to the region, to the state, and to the future of science. What science needs is a 'game changer' and algae are going to be that 'game changer'," said Dr. Pearse Lyons, president and founder of Alltech.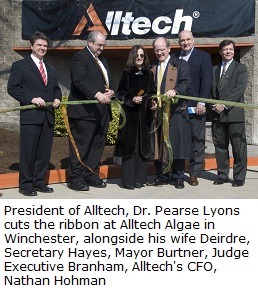 Conference presentations from several of Alltech's leading researchers were focused on the characteristics and potential uses of algae. There are roughly 800,000 species of algae, which vary greatly in form, function and chemical composition.
Algae can be used in animal feed, food supplements, pharmaceuticals, bioremediation and biofuels. Several of these industries were represented among the international audience and lively group discussions were inspired by the specific challenges and opportunities for algae production in agriculture, environmental and renewable energy applications.
Another part of the conference included Alltech cutting the ribbon on its new algae facility in Winchester, Kentucky, a facility with more than $200 million worth of equipment that will help the company research and perfect commercial operations.