NASCAR fans attending the Quicken Loans 400 at Michigan International Speedway were flying American Ethanol Green flags as the cars promoting ethanol and family farmers hit the track.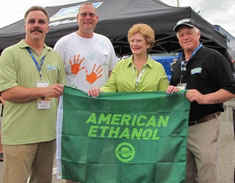 Corn growers and the American Ethanol team distributed 3,000 flags to campers prior to the races, where Kenny Wallace piloted the Family Farmers car on Saturday and Austin Dillon made his 2012 Sprint Cup debut in a full American Ethanol paint scheme on Sunday.
"It was a terrific weekend to be at the races," said NCGA President Garry Niemeyer. "There was so much excitement on the part of the drivers and the fans, and you could not miss the involvement of our growers and others in spreading the word about America's favorite renewable fuel."
Even Sen. Debbie Stabenow (D-MI) was at the race and got a flag – a bigger one than most fans got. The senator met with corn grower leaders prior to the race to discuss several topics of importance to growers, including protecting the Renewable Fuel Standard (RFS) and the pending farm bill in the Senate.