Kirschenman Enterprises, an agricultural company that grows, packs ands ships potatoes, grapes and watermelon, has installed a solar system at their cold storage facility in Bakersfield, California. The fixed tilt ground and roof-mounted 510kW solar electric installation features Coenergy Solar's PH235P solar modules and SunTop and SolarLinea II mounting systems. The solar system has the capacity to produce 768,182 kWh of energy each year.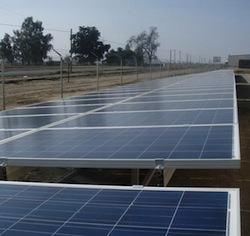 While another solar system may not seem like news, in fact, this is the first system installed in the region using Coenergy's "Elevated Agricultural Solar Structure". The structure is 20 feet tall and at the lowest point does not interfere with loading dock operations taking place directly beneath the solar array. The installation included two ground mounted systems, three roof mounted systems and the Elevated Agricultural Solar Structure.
Kirschenman has been looking for ways to increase long term sustainability of its farming operations, an extremely important challenge for growers in the San Joaquin Valley.
"The Elevated Ag Solar Structure design is cutting edge and really works well for agricultural facilities who might not otherwise have the room for solar," said Conergy Project Development Manager David Vincent. "It is a great concept and I expect to see many other Agricultural facilities utilizing the design."