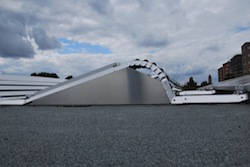 Conergy Canada has released it new aerodynamic mounting system for weight limited industrial flat roofs. The technology, called the Conergy SolarFamulus Air, reduces the ballast requirement for an entire array, and eliminates the need for roof penetrations. The principle employed when developing the system was one similar to that of a spoiler on a race car: the baffles help to significantly reduce vertical, lifting forces cause by wind. The result is a system that is not only lighter, but can literally be installed by the customer in 5 steps.
The company says this technology opens the door to a new solar market. Commercial flat roofs with weight limits could not support traditional solar PV systems, but they now can with their SolarFamulus Air technology, thus expanding the market. The technology boasts venting windows that allow wind and convection to cool the back of the modules which increases module performance.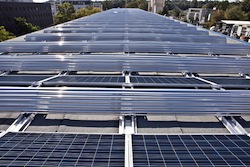 "Many years of experience have been put into developing this lightly ballasted system that requires no roof penetration," said Conergy Canada Product Manager Mitch Gorman. "Recent Ontario building code changes have severely reduced the additional load capacity of many Ontario rooftops. The SolarFamulus Air offers a state of the art mounting solution for mounting solar PV on these compromised roofs."
In addition to higher performance, Conergy said another advantage of this technology is that there are only six components that need to be installed and one tool can do the trick. This saves times and money according to the company as well as shipping costs are reduced.
For our readers who will be attending CanSIA Solar Ontario, Conergy will be teaching consumers how to install the system on May 14, 2012 at 9:00 am EST in booth 414. The training comes on the heels of the product launch, the SolarFamulus Air will begin shipping on May 1.