FUJIFILM has completed the installation of a 483,391 kilo-watt hours solar power system at its branch office in Hawaii. The installation was completed by 21st Century Technologies and is comprised of 1,455 Conergy PowerPlus modules. The solar power system will produce the equivalent amount of energy needed to power 66 average sized homes per year and is the first Conergy PowerPlus plant installed in North America and one of the top 10 largest solar power systems in Oahu.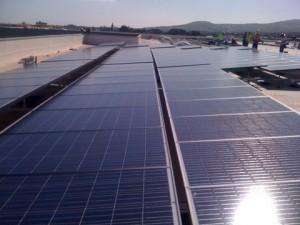 "This project began in response to a corporate mission of energy conservation and greenhouse gas reduction, but it also will help us realize significantly reduced energy costs. The combination of Conergy PowerPlus modules, along with 21st Century's unique proposal, will make us virtually energy independent," said Ray Hosoda, President and CEO, FUJIFILM North America Corporation. "With the urgency and concern about saving the environment and resources, this project is especially important to FUJIFILM as we do our part in helping to preserve the lush, beautiful surroundings in which we work and live."
The company will both save money on its current energy bill as well as utilize the local utility's net energy metering program. Typically, these types of programs allow the extra power generated by the solar system to be sold back to the grid. The FUJIFILM installation is the first project under Conergy and 21st Century Technologies new strategic partnership.
"Hawaii is a world leader in alternative energy solutions, especially solar," said Myron Thompson, CEO of 21st Century Technologies. "We chose the Conergy PowerPlus module because of its unique engineering and durability profile. We needed something really tough to stand up to Hawaii's powerful winds and salt air. The Conergy PowerPlus panel fit the bill exactly. It has one of the best warranties on the market, and that was critical. We're really excited about our new partnership with Conergy and the opportunities ahead."
Carl Campagna, Conergy's Regional Account Manager in Hawaii and Oahu resident, added, "Since Hawaii is leading the country in solar energy with the goal of reaching 70% of its energy needs through clean energy sources by 2030, Conergy is excited about our mutually-beneficial relationship with 21st Century Technologies. We are looking forward to experiencing future growth on the island."