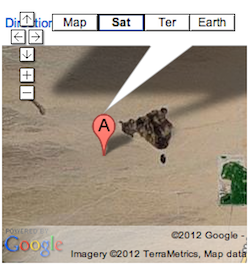 Google has gone far beyond "web searches" and delved into projects that would save "Google" earth. The company has invested in several high profile projects, one being the Ivanpah Solar Electric Generating System (ISEGS). Once completed, this project is being hailed as the largest solar project in the world and will use the lastest solar technologies to capitalize on converting the hot sun of California's Mohave Desert into golden power.
Ivanpah is located on 3,600 acres of land managed by the U.S. Bureau of Land Management. Once complete, it will produce 392 megawatts of power each year. The project is a joint effort between BrightSource Energy, who is developing the solar thermal power facility, Google and NRG Solar. In addition to the monies invested by the partners, the project has also received a U.S. Department of Energy Loan guarantee.
Here are some of the highlights of the project:
A 392 megawatt (gross) solar complex using mirrors to focus the power of the sun on solar receivers atop power towers.
The complex is comprised of three separate plants to be built in phases between 2010 and 2013, and will use BrightSource Energy's LPT solar thermal technology.
The electricity generated by all three plants is enough to serve more than 140,000 homes in California during the peak hours of the day.
The project will provide power to Southern California Edison and Pacific Gas and Electric Company.
This project is experiencing large amounts of attention for two reasons.
First for the cutting-edge technologies that are being used. This week, it was announced that Guardian Industries, a U.S. company based in Michigan, EcoGuard Solar Boost mirrors have been selected for installation. The project began construction in October of 2010, and the EcoGuard Solar Boost mirrors have proven to withstand the extreme conditions of the desert.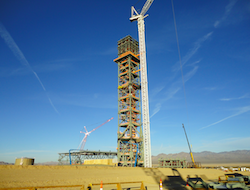 The second reason for all the attention is because of the way the project is balancing the need for clean energy with the need to keep the environment and species of the Mohave Desert safe.  In the quest for "cleaner" energy, the industry as a whole has to learn how to accomplish this need in symbiosis with the environment – not at the expense of it.
But often times, people don't realize that in order to fully understand how to achieve the best balances, projects will have to move forward. With the growing need for energy we can't continue to rely solely on traditional energy sources and must develop clean technologies. If we don't, we could experience energy costs – both economically and environmentally – that the common man cannot afford.
To make the two work in tandem, clean energy companies will need to continually learn how energy production is affecting its surroundings, both positively and negatively.  The next step is make technological changes that will reduce impacts and then share their findings with others. By doing this, each project will tread more lightly than the last.