The largest solar photovoltaic (PV) generating facility in California is underway with the solidification of a partnership between Eurus Energy America and NRG Solar, a subsidiary of NRG Energy, Inc. (NRG). When completed, Avenal Park, Sun City and Sand Drag, three Avenal zero-emission solar projects located in Kings County, CA, will generate a total of 45 megawatts (MW). This is enough energy to supply the needs of 36,000 homes. The projects were developed by Eurus and are jointly owned by Eruis and NRG and will be built with thin film solar panels manufactured by Sharp Electronics.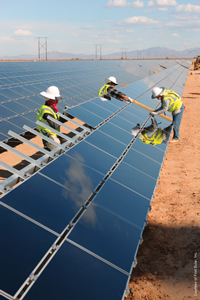 Maybe most significant about the project is that Sun City (20 MW) and Sand Drag (19 MW) have received full notice to proceed, permitting has been an area of great frustration among solar companies planning projects in California. Ryan Company Inc. is the engineering, contracting and procurement firm for the project and will begin construction immediately. The two projects are estimated to be in full operation in 2011. In addition, the California Public Utilities Commission has approved the 20-year Avenal power purchase agreements with Pacific Gas & Electric.
"The Avenal projects are just the first of many utility-scale PV solar projects that we expect to be developing, building and owning in the State of California. We are very pleased to be adding these solar power projects to our portfolio of wind projects helping California reach its nation-leading goals to increase the utilization of emission-free power generation," said Mark E. Anderson, President and CEO of Eurus Energy America.
Recently, Californians shot down a proposal to expand their renewable portfolio standards from 20 percent to 33 percent by 2020 but in one if his last major moves as Governor, Schwarzenegger overruled the state's decision and signed the legislation into law. NRG Solar and Eurus note that this project will help the state meet its aggressive renewable energy goals.
"We believe Avenal represents not only a bold new chapter in developing clean, zero-emission solar power in California, but also is a key piece in helping the state meet its ambitious renewable portfolio standard by the end of the decade," said Tom Doyle, President of NRG Solar. "California continues to lead our nation in mandating the increasing use of renewable power, and, as the owners of the largest PV site there today, we look forward to continuing our partnership with California and our leadership as a developer of this bountiful, sustainable power source."