U.S. automakers are making the move to produce more environmentally friendly vehicles. They are also making the move to producing them in a more environmentally friendly way, and Ford has even gone a step further to partner with SunPower Corp. to help consumers who purchase plug-in electric vehicles to charge up with renewable energy.
According to Mike Tinskey, Ford director of Global Vehicle Electrification and Infrastructure, the "Drive Green for Life" program enables Focus Electric owners to reduce their cost of ownership by generating enough energy from their SunPower rooftop solar system to offset the electricity required to charge the vehicle at night. "It's an eco-friendly solution that perfectly complements our plug-in products and other green initiatives," he said.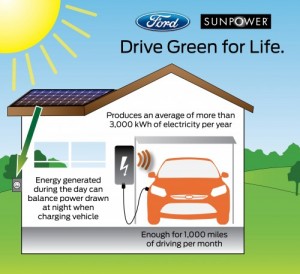 "SunPower's innovative partnership with Ford is a win-win for customers, providing a comprehensive sustainability program," said Tom Werner, SunPower president and CEO. "By taking advantage of this program, Focus Electric customers can receive the added benefit of installing a SunPower solar system, the highest-efficiency, most reliable on the market today, generating the electricity needed to charge their vehicles."
The 2.5 kilowatt rooftop solar system generates roughly 3,000 kilowatt hours of power each year. SunPower says this is nearly 50 percent more energy than conventional panels while at the same time utilizes less roof space than other panels. This is enough energy to charge an EV that drives about 1,000 miles a month. The rooftop solar system will also be compatible with the C-MAX Energi PHEV that Ford is rolling out in 2012.
This is the second renewable energy initiative that Ford has undertaken. In January, the company announced a partnership with Best Buy to offer a 240 volt home charging station for the Focus Electric and all future Ford EV models.