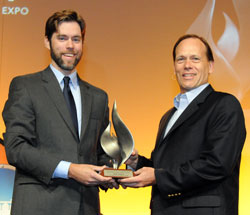 At the beginning of this morning's opening session of the Fuel Ethanol Workshop, Rick Tolman, CEO, National Corn Growers Association, was presented the High Octane Award by Tom Bryan, BBI International. I will post Rick's comments later this morning after this plenary session.
Our morning session includes a conversation between NASCAR CEO Brian France and Growth Energy CEO Tom Buis. That's taking place now. I will also have that posted later today as well.
Post Update: Here are Rick's comments from this morning's award presentation. Rick Tolman Award Remarks
Our coverage of the 2011 Fuel Ethanol Workshop is being made possible by the Renewable Fuels Association.