The Solar Electric Power Association (SEPA) released its 2010 SEPA Utility Solar Rankings report today that details the top utility companies to add solar energy to their portfolios in 2010. More specifically, the report identifies the Top 10 U.S. utilities that added the most new solar power to their systems last year and the Top 10 utilities that added the most solar on a watts-per-customer-served basis. Combined, the Top 10 utilities reported that they added 561 megawatts of new solar capacity, an increase of 100 percent over 2009.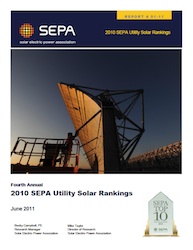 "More and more utilities are integrating solar power into their energy portfolios, including many in states like New Jersey, Idaho and North Carolina," said Julia Hamm, president and CEO of SEPA. "Solar power has largely been associated only with California and the Southwest, but that's no longer the case." In SEPA's 2008 Rankings report, 75 percent of the new solar capacity was located in California. By contrast, in the 2010 survey, 63 percent of new capacity came from other states. "Utilities nationwide are finding new ways to take advantage of the benefits of solar power for themselves and their customers," said Ms. Hamm.
The leading utility to add solar energy was Northern California based Pacific Gas and Electric Company with 157 megawatts total. The next two in line were Juno Beach, Florida based Florida Power & Light Company and Public Service Electric Gas Company, based in Newark, New Jersey. Two other trends were identified in the report: a growing number of solar projects are centralized, and more utilities are choosing to own their own solar capacity, rather than rely largely on purchasing solar from independent power producers.
Of the 561 megawatts of solar added last year, 140 megawatts are actually owned by the utilities. "The ownership trend is a truly significant finding," said Hamm. "It represents a 300 percent increase over the numbers reported in 2009. We expect the growth in utility solar power to continue. Our findings show that utilities are continuing to find new, viable business models for bringing the benefits of solar power to their customers."
SEPA will host a FREE one-hour webinar to discuss the report on Thursday, June 23, at 2 p.m. Eastern, 11 a.m. Pacific. Click here for more information about the webinar. Registration opens on June 17, 2011.