Although ethanol's "driver" Clint Bowyer didn't win the Daytona 500 this weekend, ethanol scored a victory as the "The Great American Race" this past Sunday was the first time all the cars raced using Sunoco Green E15. There were more than 120,000 fans at the race and millions of fans watched the action on TV and witnessed the ethanol partnership between NASCAR and the National Corn Growers Association and Growth Energy.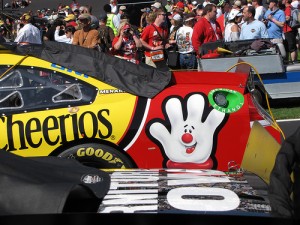 "This is just the beginning of the racing season, and NASCAR's 75 million race fans will see the benefits of an ethanol blend for more power and less emissions," said NCGA President Bart Schott, on hand for the race in Daytona Beach, Fla., with growers and others for an up-close look at how a NASCAR race operates. "This has been a great experience for us to learn more about NASCAR's drivers, staff and fans and to help spread the word about ethanol."
American-Ethanol-sponsored driver Clint Bowyer, driver of the #33 Chevrolet, performed well this weekend, winning a pole position for Saturday's Drive4COPD 300 race and coming in second, and scoring the sixth starting position for the Daytona 500 on Sunday. Bowyer led that premier event 11 times for 31 laps and then finished 17th, after a massive pileup only four laps before the end of the race.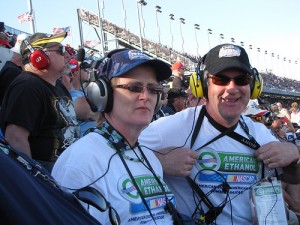 During the Daytona 500, race fans were provided miniature American Ethanol green flags to wave at the start of the race and take home. In addition, NASCAR aired a minute-long spot during the Fox broadcast focused on the farm connection to ethanol. In addition, ethanol is branded on the track: ethanol logos encircle the fuel ports of all race cars. The NASCAR American Ethanol partnership also involves a multi-year agreement through which American Ethanol will sponsor a new award each race and be featured on-site for race days.
"This showcase of ethanol will really help us educate Americans about the value of a domestic, renewable fuel blend that creates jobs, provides energy independence and helps clear the air," Schott said. "NASCAR's endorsement of ethanol is an important one because they appreciate the value of good fuel for their machines."
While you will be able to see ethanol on track in all three NASCAR series throughout the 2011 season, American Ethanol will be the primary sponsor of the No. 33 Chevrolet car at the Kansas Speedway 400 on June 5, and an associate sponsor of the car for the rest of the season.