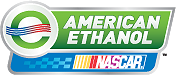 NASCAR is in the middle of making an announcement of a "major long-term partnership with American Ethanol which is being led by Growth Energy.
You can see a video that was just published below. I hope to have some audio from the announcement added after the official public announcement which is taking place in Las Vegas as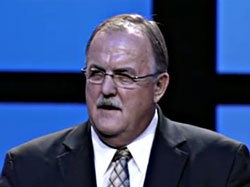 of this posting.
Pictured here is Bart Schott, President, National Corn Growers Association, who was one of the people making remarks.
Post Update: You can listen to and download the audio of the announcement here: American Ethanol NASCAR Announcement
Growth Energy, a coalition of U.S. ethanol supporters including farmers and members of the ethanol supply chain, becomes an official partner of NASCAR, using the sport to bring its message of American ethanol to millions of race fans. American Ethanol will support drivers, teams and tracks with marketing, promotional activities, advertising and a season-long weekly contingency award in 2011.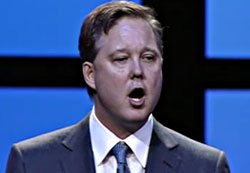 NASCAR made the American Ethanol partnership announcement just weeks after announcing a switch in its major national series to Sunoco Green E15, a new 15-percent ethanol blend fuel made with corn grown in the United States.
Financial terms of the six-year agreement were not disclosed. Pictured is NASCAR CEO/Chairman Brian France.
American Ethanol will participate in NASCAR's Prize Money & Decal Program, also known as the contingency program, with the creation of the "American Ethanol Green Flag Restart Award" in the NASCAR Sprint Cup Series, while also providing weekly prize money for eligible competitors in the NASCAR Nationwide Series and NASCAR Camping World Truck Series based on finishing position. The NASCAR Sprint Cup Series weekly award will be given to the participating driver who records the fastest average speed on restarts and who finishes the race on the lead lap.

The American Ethanol partnership also includes the National Corn Growers Association as well as others.