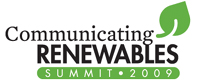 The Communicating Renewables Webinar Program kicked off the first of its six part series designed to help arm communications professionals with the tools they will need to approach, head on, the challenging task of getting the positive message about renewable energy, technologies and research out to consumers, stakeholders, policy leaders, and the media. Jay Byrne, president of Fluence Interactive Public Relations, Inc. (v-Fluence) presented yesterday on Social Networking and how one can refute the misconceptions and negativity in the renewable energy arena.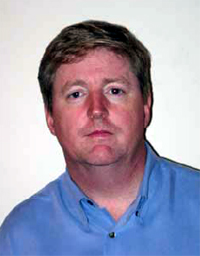 "The internet is the starting point where people collect information," noted Byrne. "It is more influential than all other media."
Byrne also said that over 90 percent of individuals use a search engine to inquire about issues and this is where organizations can target their message. He stressed the value of influencing search results against terms people use with your content and that of others who agree with you; extending availability and visibility of supportive content into multi-media channels; making your content available (and part of) relevant new and social media conversations; and finally having your content validated (amplified) by appropriate third-parties online (via repetition and links).
As the host of the Communicating Webinar Series, Joanna Schroeder, APR, Principal of 4R Communications said, "In an over crowded marketplace, content and relationships rule. It's important that communicators remember that some of the most simple and effective tools will help us gain consumer support. Some of these tactics include coalition building, developing relationships with energy experts and energy reporters, and bringing all of these people together through dynamic web content."
The next Communicating Webinar Series will be on June 9 and presented by Sean O'Hanlon, Founder and Executive Director of American Biofuels Coalition and Tom Collina, Executive Director of 2020 Vision. The topic of the webinar will be Unification of Messages through Coalition Building — Best Practices. For more information, click here.