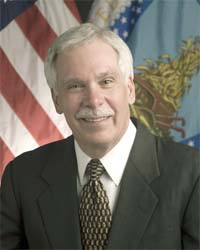 Ed Schafer, U.S. Secretary of Agriculture under George W. Bush, Governor of North Dakota from 1992-2000, and one of the founders of the Governors' Biofuels Coalition will be the first guest on the 2009 edition of the Ethanol Minute Radio program beginning this week.
In this year's inaugural broadcast of the highly successful series, Secretary Schafer says that America can continue to be the breadbasket of the world while playing a vital role in the development of renewable energy. He notes that biofuels had little impact on a spike in food prices last year that were in reality due to skyrocketing energy costs, a global drought, and a surge in world demand.
"Although corn and oil prices are now at their lowest in years, food manufacturers continue to charge high prices and rake in record profits. It is time for them to stop blaming biofuels and provide some relief to the American consumer," said Mr. Schafer. "Working together, we can turn the economy around with both the energy and food sectors doing their part. As a Governor I had to balance the needs of many different industries and the biofuels program does just that."
The Ethanol Minute is broadcast nationally with nearly 1,000 minutes per week airing from coast to coast reaching more than 50 million listeners. Guests include people from all walks of life providing a perspective from a variety of industry, government, and public interests in a concise and targeted format.
The Ethanol Minute is part of the Ethanol Across America Education Campaign. The program is produced in cooperation with the US Department of Agriculture, with additional support provided by Growth Energy.