Last September, a motorcycle that runs on biodiesel hit a record 130 miles per hour (see my Sept. 17, 2007 post). Now, the folks at the Oakland, California-based The Crucible want to run it up to 160 mph!
But first, this YouTube video posted on InventorSpot.com shows them taking out on the road: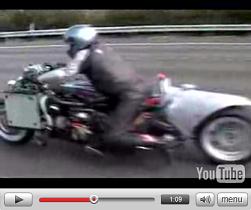 Extreme motorcycle modification is nothing new. So when Michael Sturtz decided to make an extreme motorcycle with a diesel motor, not much was said, until now.
Sturtz and his team from an industrial-arts group called the Crucible based out of Oakland, California started with an older model motorcycle. They found a diesel V6 from a BMW and began the painstaking process of merging the 2. After spending over a month rebuilding the frame, running hoses and cables and designing a biodiesel friendly fuel system, the computer locked up. A built in security system flagged the car as stolen and only after some "hacking" and a few calls to BMW could the problem be remedied.