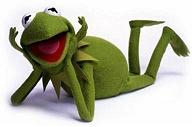 OK, I'm not talking about Kermit the Frog or even The Riddler – Frank Gorshin (although he was more of a green wearer, and not actually green in hue on the old Batman TV show).
But as the world gets ready to hold Live Earth, nine concerts across the globe expected to attract an audience of two billion people to draw attention to global warming, this Reuters article highlights some of the celebrities who will be taking part who do their part by using biofuels:

* DARYL HANNAH — The actress hopes to become a full time activist, campaigning on the environment and slavery. Hannah lives without mains electricity in the Rocky Mountains, using solar energy and driving a car run on biodiesel made from recycled cooking oil.

* WILLIE NELSON — With Hannah and biodiesel producers Bob and Kelly King, the country singer helped set up the Sustainable Biofuels Alliance, bringing together activists and scientists to give consumers better guidance on clean fuels.

* SHERYL CROW — The singer travelled around U.S. colleges in April to raise awareness about global warming. Crow toured in a biodiesel-powered bus to university campuses with a final stop in Washington for Earth Day on April 22. Crowe and Karl Rove, political strategist to President George W. Bush, clashed over global warming at a White House dinner just after her tour.
Just yesterday, I told you about how Willie Nelson helped SeQuential Biofuels celebrate its second anniversary of its biodiesel plant in Oregon (see my post here). I guess it's just the nature of our popular culture, but if a few of these celebs can convince more people what many in the Midwest have known for a long time… that biofuels are a viable, renewable resource right here at home… then, (green) power to them.