Back in September I brought you a story about Orrie Swayze, an active ethanol advocate, who wants all drivers to use E30 in their cars. At the time, there was a special order in front of the South Dakota Farmers Union and this has since passed in a resolution meeting and Swayze believes the resolution will unanimously pass at their December 10, 2015 meeting. The special order declares that all 14,000 members pledge to use premium E30 in all their non-flex fuel autos and other standard engines.
Watertown, South Dakota-based Glacial Lakes Energy is publicly promoting the use of E30 with a full-page newspaper ad and Swayze is calling on other ethanol plants to tear down the Environmental Protection Agency's (EPA) "Illegal Ethanol Lie" that holds such power over the ethanol industry and built the E10 blend wall that has cost the industry billions.
Swayze has penned an opinion piece about E30 and it is below.
All Auto Owners Can Choose Premium E30
Shatter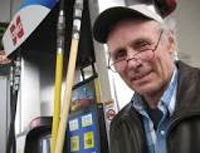 ing EPA's biggest illegal lie: "Its illegal to fuel non-flex fuel vehicles with lower cost, more power ethanol's premium blend E30."  Even though for manufacturing efficiencies both flex and non-flex fuel vehicles have basically the same engines, fuel, and emissions systems:  And the clean air act's memorandum 1a, now amended to include persons, or the law protects consumers from EPA's zealous, unreasonable enforcement of  clean air act's tampering provisions.  Plus thousands of standard auto owners daily fueling with premium E30 obviously have the clean air act's memorandum 1a defined "reasonable basis for knowing": Knowing they are not tampering or illegally degrading emissions, engines, or emission systems and Magnuson-Moss warranty act protects them from unreasonable warranty denials. Continue reading →