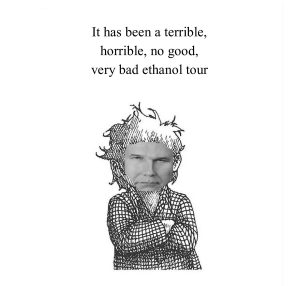 Renewable Fuels Association CEO Bob Dinneen channeled author Judith Viorst in an editorial post Friday summarizing EPA Administrator Scott Pruitt's ethanol "Redemption Tour" last week.
Day 1 of his Redemption Tour had Pruitt telling ethanol producers his role was to provide stability to the market only to be told the company he was visiting would be shutting down a brand new, state-of-the-art renewable diesel plant because of market volatility created by Pruitt's indiscriminate use of small refiner waivers. The same meeting included farmers telling Pruitt they were "mad as hell" at him.
Trying to deflect criticism, Pruitt told ethanol producers EPA had the authority to expand E15 sales year-around and that EPA could reallocate RINs lost to waivers. But the next day, he said EPA lawyers weren't so sure about reallocating RINs and RVP could only be done if part of a package in which refiners got something too. Really? 1.6 billion gallons in lost biofuel market share is not enough for them?