During a bipartisan briefing on Capitol Hill, researchers from six institutions advocated that adopting a national Low Carbon Fuel Standard (LCFS) would be a positive step for America. Renewable fuels, they said, will be cleaner, cheaper and "Made in America". This consensus by the group of researchers was met after conducting an extensive series of peer-reviewed LCFS studies. The research will be published in The Energy Policy Journal's special issue on Low Carbon Fuel Policy over the next several months.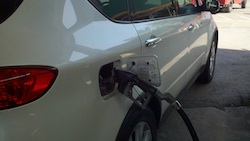 "A national Low Carbon Fuel Standard is a promising framework to help solve the transportation energy challenges that have eluded us for several decades," said Dr. Daniel Sperling, director of the Institute of Transportation Studies at the University of California, Davis, one of the participating institutions of the National Low Carbon Fuel Standard Project. "Technologically, an LCFS is very doable. And it can help us address the complex choices with conventional oil, shale gas, oil sands, biofuels, and electric vehicles."
The way that a LCFS would work is through setting a common target for carbon intensity, which would reduce the amount of carbon in transportation fuels. Energy companies would have to meet the carbon intensity level but could individually decide how to meet that goal. Companies could explore such things as biofuels or hydrogen fuels. In addition, companies could buy and sell carbon credits from companies producing low-carbon fuels.
Dr. Jonathan Rubin, professor of Economics at the University of Maine said, "An LCFS encourages innovation and diversity by harnessing market forces. "These reports provide practical policy recommendations, and are designed to inject scientific information into the national conversation on a Low Carbon Fuel Standard."
Yet not everyone agrees that an LCFS would be a positive move for the country. The Consumer Energy Alliance (CEA) has publicly come out against any national LCFS policies citing other studies that found such a move would cost millions of Americans to lose jobs, double gasoline prices and raise greenhouse gas emissions. Continue reading →