The U.S. Department of Agriculture has released a new report, "Economic Impact of the Biobased Product Industry," that finds each job in the biobased products industry is responsible for generating 1.64 jobs in other sectors of the economy. The report states in 2013, 1.5 million jobs directly supported the biobased product industry, resulting in 1.1 million indirect jobs in related industries, and another 1.4 million induced jobs produced from the purchase of goods and services generated by the direct and indirect jobs.
Agriculture Secretary Tom Vilsack today announced the release of a new report as well as discussed changed under the 2014 Farm Bill that will create additional opportunities for growth in renewable plant-based materials.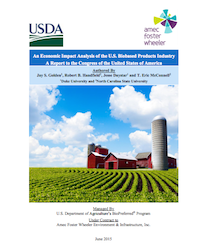 "This report is the first to examine and quantify the effect of the U.S. biobased products industry from an economics and jobs perspective. Before, we could only speculate at the incredible economic impact of the biobased products industry. Now, we know that in 2013 alone, America's biobased industry contributed four million jobs and $369 billion to our economy," Vilsack said. "Today, we are also adding to the number of innovative products carrying USDA's BioPreferred® label and expanding options for our nation's biorefineries. This means small businesses and global companies alike can continue to harness the power of America's farms and forests to create new and innovative biobased products that are used all around the world."
The report builds on the "Why Biobased?" report released by the USDA in October 2014. Estimates are that the use of biobased products currently displaces about 300 million gallons of petroleum per year – equivalent to taking 200,000 cars off the road.
The Secretary also announced changes to include new forest products in the BioPreferred program, along with proposed changes to the former Biorefinery Assistance Program to assist in the development of cutting-edge technologies for advanced biofuels, renewable chemicals, and biobased product manufacturing. Continue reading →