According to a new report released by the U.S. Department of Agriculture (USDA), the biobased products industry contributed $393 billion and 4.2 million jobs in 2014, an increase of 220,000 jobs and $24 billion over 2013. "An Impact Analysis of the U.S. Biobased Products Industry," commissioned by USDA's Biopreferred Program, is a follow-up to the 2015 report and sought to examine and quantify the effect of the U.S. Biobased products industry on each U.S. state.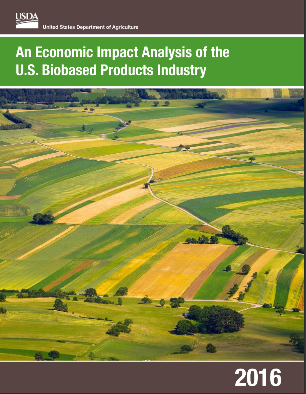 The new study found that the biobased industry directly supported 1.53 million jobs in 2014. For every 1,000 direct jobs in the biobased industry, 1,760 indirect jobs were supported. In other words, the 1.5 million jobs directly supported by the biobased industry supported 2.7 million indirect and induced jobs. In addition, the $127 billion in value added from sales by the biobased products industry generated another $266 billion in indirect and induced sales.
"When USDA released the first-ever Economic Impact Analysis of the U.S. Biobased Products Industry last year, we were thrilled to see what a positive impact this sector was having on our economy, and this updated analysis shows that the sector is not just holding strong, but growing," said USDA Ag Secretary Tom Vilsack. "America has an appetite for everyday products-including plastic bottles, textiles, cleanings supplies and more-made from renewable sources, and that demand is fueling millions of jobs, bringing manufacturing back to our rural communities, and reducing our nation's carbon footprint. As this sector is strengthening," continued Vilsack, "so is the economy in rural America, where this year the unemployment rate dropped below six percent for the first time since 2007. USDA is proud to see such strong returns on our investment into the biobased products industry."
States leading the way in the biobased industry include California (145,080), North Carolina (90,040), Texas (88,680), Georgia (80,520) and Pennsylvania (71,360). It should be noted that the biobased industry, as defined by USDA, includes agriculture and forestry, biorefining, biobased chemicals, enzymes, bioplastic bottles and packaging, forest products and textiles. The definition does not include energy.
The report concludes that despite the current low price of oil, it is projected that the U.S. biobased products industry will exhibit steady growth over the next five years. However, several challenges will need to be overcome including, but not limited to:
Production tax credits (PTCs) must be extended beyond biofuels to include biobased products;
Further legislation is required to support the biobased products industry;

Financial incentives are needed to promote the construction and operation of more U.S.- based facilities; and

States need to provide resources to support the growth of the biobased products industry, which is very important because currently there are insufficient pilot plants to foster innovation.
Click here to read the full report.