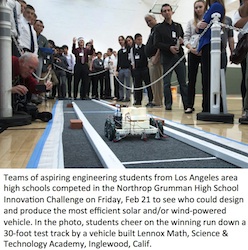 The 2014 Northrop Grumman Corporation High School Innovation Challenge (HSIC) has led to some, well, cool innovations in renewable energy and engineering. On February 21, 2014, six student teams from Los Angeles, California high schools took an engineering problem, limited budget and little time and created renewable energy-powered model vehicles. The event was part of National Engineers Week.
The challenge is modeled after a Northrop Grumman program or engineering capability, and designed to stimulate student interest in pursuing careers in scientific or engineering fields. The goal of this year's competition was to design and build a renewable-energy-powered model vehicle that could carry a payload as efficiently as possible over a set distance.
"The Northrop Grumman High School Innovation Challenge exposes students to the major steps required to develop, document and demonstrate an engineering concept," said Krystal Puga, a systems engineer on Northrop Grumman's James Webb Space Telescope project and the company's HSIC deputy coordinator. "It teaches them how to develop, document and present their ideas; manage a schedule and budget; and prove that their concept meets the customer's requirements."
The teams participating in this year's HSIC included the California Academy of Math and Science in Carson; Da Vinci Science High School in Hawthorne; El Segundo High School; Lennox Math, Science and Technology Academy in Inglewood; Hawthorne Math and Science in Hawthorne; and Palos Verdes Peninsula High School in Rolling Hills Estates.
Over the course of the 12-week competition, the HSIC teams – each one mentored by a Northrop Grumman engineer – were graded on their ability to develop and document their vehicle's design in a written report; present the concept orally to a panel of engineers; and prove the vehicle's performance on the test track. Continue reading →