United Airlines has made a $30 million equity investment in U.S.-based waste-to-energy company Fulcrum BioEnergy, Inc., According to United Airlines, this is the single largest investment by a U.S. airline in alternative fuels and sets them apart in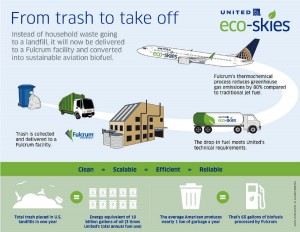 the aviation industry in the advancement of aviation biofuels and carbon emissions reductions. In addition to the equity investment, United and Fulcrum have entered into an agreement that will study the feasibility of developing up to five projects located near United's hubs. If the projects come to fruition, the facilities would produce up to 180 million gallons of aviation biofuels per year.
"We know alternative fuels is an emerging industry that is vital to the future of aviation and this is just one of our initiatives to help make these fuels saleable and scalable," said United's Executive Vice President and General Counsel Brett Hart. "Investing in alternative fuels is not only good for the environment, it's a smart move for our company as biofuels have the potential to hedge against future oil price volatility and carbon regulations."
As part of the partnership, United has negotiated a long-term supply agreement with Fulcrum and, subject to availability, will have the opportunity to purchase at least 90 million gallons of sustainable aviation fuel a year for a minimum of 10 years at a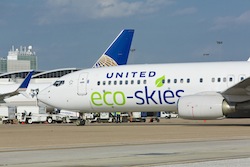 cost that is competitive with conventional jet fuel. Fulcrum anticipates its first alternative fuels plant will begin commercial operation in 2017.
According to Fulcrum, their technology converts household trash, or municipal solid waste (MSW), into renewable jet fuel. Fulcrum's renewable jet fuel is expected to provide a greater than 80 percent reduction in lifecycle carbon emissions when compared to conventional jet fuel.
"United Airlines just demonstrated why they are one of the leaders in commercial aviation," added E. James Macias, Fulcrum's president and CEO. "United's investment and participation in our projects is a tremendous boost to our program. Their support, commitment and backing accelerate our schedule to bring large volumes of competitively-priced, sustainable fuels to United and the rest of the aviation industry."