A new report finds that more than 9,800 clean energy and clean transportation jobs were announced in the U.S. in the first three months of 2015. This is nearly double the number of jobs announced during the same timeframe in 2014. The report was released by Environmental Entrepreneurs (E2).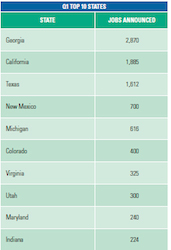 The top three states for the quarter were: Georgia (2,870 jobs), California (1,885) and Texas (1,612). New Mexico, Michigan, Colorado, Virginia, Utah, Maryland and Indiana rounded out the top 10. Georgia's No. 1 ranking was its first since E2 began its clean energy job-tracking analysis in 2011. The vast majority of its jobs came in the solar sector.
"Nearly 10,000 new job announcements in one quarter shows just how fast clean energy is growing in America," said Bob Keefe, executive director of E2. "But building an economy increasingly fueled by clean, renewable energy like wind and solar doesn't happen in just one quarter. Smart policies like the federal Clean Power Plan – which will reduce carbon pollution from existing power plants and increase clean energy – will help keep the job growth going." Final Clean Power Plan standards will be announced later this summer.
Nationally, solar was the top sector in Q1, with more than 6,600 jobs announced from nearly 20 projects in solar generation and solar manufacturing. The report attributed declining materials costs as a primary reason for the solar industry's strong showing. In the wind energy sector, more than 1,400 jobs stemming from 11 projects were announced, while the biomass, energy storage, advanced vehicle and lighting efficiency sectors announced hundreds of jobs each.