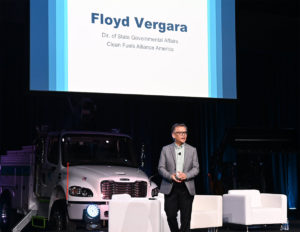 Clean Fuels Alliance America congratulates Floyd Vergara, Director of State Governmental Affairs, on his upcoming retirement at the end of this month.
Vergara has an accomplished career in the clean fuels industry with nearly four decades of experience. He currently manages the Clean Fuels West Coast office in Sacramento, California, and leads the team responsible for government affairs in all 50 states.
Prior to joining Clean Fuels in 2019, Vergara served as Chief and Assistant Chief in the Industrial Strategies Division and Research Division at the California Air Resources Board (CARB). During his career at CARB, he oversaw key climate change and air quality programs, including the Low Carbon Fuel Standard (LCFS). He continued that decarbonization strategy with Clean Fuels both as Director of State Regulatory Affairs and then Director of State Governmental Affairs.
Throughout Vergara's tenure, the state affairs team helped establish and strengthen policies such as California's LCFS, Oregon's similar Clean Fuels Program and Washington's new Clean Fuels Standard.
"I'm proud of and very thankful to Clean Fuels, its members and partner soy associations for what we've been able to accomplish with their support at the state level to further that narrative," Vergara said. "I look forward to seeing even more success as I head into retirement after a long career in the low-carbon fuels space."
Jeff Earl, Clean Fuels' Director of State Regulatory Affairs, will assume the position of Director of State Governmental Affairs upon Vergara's departure, based at the organization headquarters in Jefferson City, Missouri.