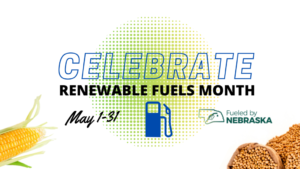 May is the month to celebrate Renewable Fuels Month in Nebraska, highlighting the importance of renewable biofuels, such as ethanol and biodiesel, especially for the Cornhusker State.
Fueled by Nebraska, a partnership of Nebraska biofuels organizations, and the Nebraska Soybean Board, is leading the initiative this month to celebrate renewable fuels as we head into the summer driving season. Gov. Jim Pillen will make the official declaration of May as Renewable Fuels Month later this week.
"Nebraska agriculture is well-positioned to greatly impact the country's transition to be less carbon-intensive. While new technologies find their footing, corn and soybeans grown right here in Nebraska will continue to feed and fuel the world for a long time," said Sherry Vinton, director of the Nebraska Department of Agriculture. "Please celebrate this hard work with us throughout May. Fill up with biofuels, save money, and tell others of the importance of renewable fuels to our state and communities."
Ethanol is the third largest Nebraska agriculture commodity, and the use of a 10% blend saves Nebraskans $275 million per year. Nebraska is also the second largest producer of ethanol in the country. For soybean growers in the states, biodiesel adds 70 cents per bushel to the value of soybeans while reducing lifecycle emissions by 86% compared to petroleum-based diesel fuel.