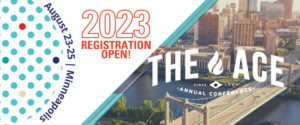 "Everything Counts" is the theme for the 36th annual American Coalition for Ethanol (ACE) conference, August 23-25, at the Minneapolis Marriott City Center and registration is now open.
"ACE continues working to ensure farmers and ethanol producers are in a position to obtain valuable clean fuel credits for the many steps they are taking to improve ethanol's carbon score," said Brian Jennings, ACE CEO. "We encourage ethanol producers and industry members to join us in the Twin Cities this summer to discuss these and other initiatives ACE is working on to increase the value of and demand for ethanol."
"For nearly four decades, biofuel stakeholders have utilized the ACE conference as an opportunity to not only have candid conversations about the latest technology developments and market updates, but also about where the industry is headed and aspires to be," said Katie Muckenhirn, ACE Vice President of Public Affairs. "We're developing an event agenda that encompasses what industry leaders need to know and explores topics aimed at framing the continued future success of this industry."
The conference provides two days of general sessions, including updates from ACE leadership, and topics like new uses and markets for ethanol producers, the retail marketplace for E15 and E85, farm-to-biofuel carbon market opportunities, and trade developments. The conference also offers breakout sessions with subjects covering the latest in technology updates, strategic planning advice, as well as ways for ethanol plants to lower their carbon score and raise profitability.
This year's event also includes the option to attend the Minnesota Twins versus Texas Rangers game on the evening of August 24. Stay tuned for more agenda details and event announcements over the coming months. For more information about the event, or to support the conference via a sponsorship, please contact Katie Muckenhirn at kmuckenhirn@ethanol.org or visit ethanol.org/events/conference.