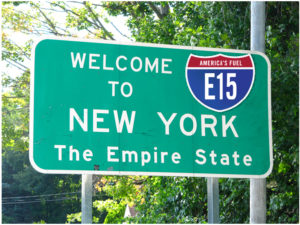 Drivers in New York state now have at least one location where they can purchase E15, the low-cost, lower-carbon fuel blend containing 15 percent ethanol.
According to the Renewable Fuels Association, one of the first locations offering E15 in the Empire State is the Dandy Mini Mart and Travel Plaza in Nichols, where drivers recently reported purchasing the fuel for $3.29 per gallon, which was 20 cents less than the price listed for regular gasoline.
The state of New York gave E15 fuel blends the green light in November 2019 after years of work by the Renewable Fuels Association and others to educate state regulators, policymakers, retailers, and consumers about the benefits of the fuel, Cooper said. Drivers in the state consume nearly 5.5 billion gallons of fuel every year, which already includes more than 500 million gallons of ethanol. A new study by economists at the University of California-Berkeley and elsewhere found the presence of ethanol in the U.S. fuel supply is responsible for reducing gas prices by as much as 77 cents per gallon in recent years. A move to E15 would further extend those economic benefits statewide.
New York is also home to RFA member Western New York Energy in Medina, a biorefinery that produces 65 million gallons of ethanol each year.