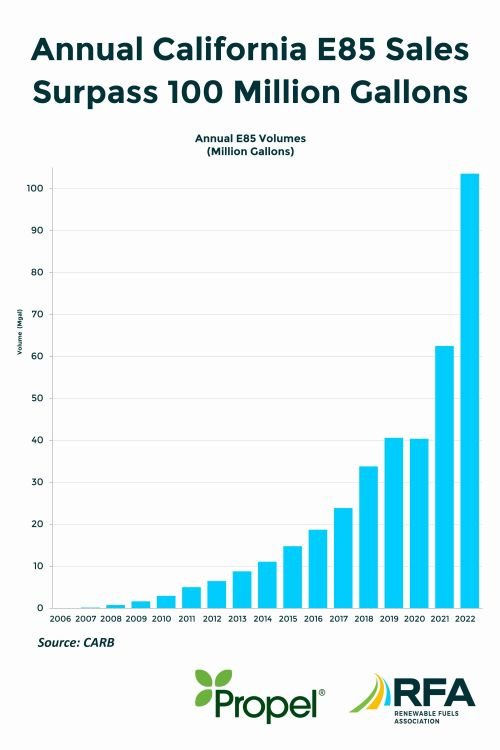 The Renewable Fuels Association held an event this week in Sacramento with Propel Fuels spotlighting the importance of the lower-carbon E85 Flex Fuel blend, which hit a record 103.5 million gallons sold in the state last year.
"Gas prices are on the rise again in California, and drivers are seeking out options at the pump that are both more affordable and better for the environment; E85 definitely checks both of those boxes," said RFA President and CEO Geoff Cooper. "American-made E85 is a low-carbon, low-cost liquid fuel that is growing in popularity and availability. The fuel substantially reduces greenhouse gas emissions compared to gasoline and helps insulate our nation's fuel supply from the whims of the OPEC cartel and Russia. The record sales volume for E85 in 2022 clearly shows that, when the blend is made available and effectively promoted, FFV drivers will absolutely respond."
Propel launched E85 in the Sacramento region in 2007 and CEO Rob Elam says it's now the fastest-growing fuel in California. "We expect to see exponential growth as Propel expands its E85 wholesale offering across the west coast and beyond," said Elam.
The latest Energy Information Administration update shows prices for regular gasoline averaged $4.68 per gallon in California last week, up more than $0.50 per gallon since the beginning of the year. E85 typically sells for 25 to 40 percent less in California and was priced at $2.99 per gallon Tuesday, compared to $4.69 for regular unleaded.