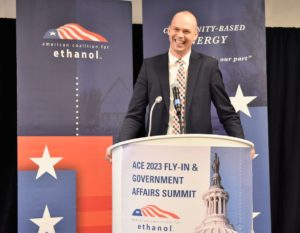 Environmental Protection Agency Senior Agricultural Advisor Rod Snyder was happy to be able to join the American Coalition for Ethanol to kick off the organization's first fly-in since 2019, but he unfortunately had little to say about the most important issue on the industry's plate – allowing sales of E15 this summer.
"While I can't comment specifically at this time, please note that the agency is continuing to consider available options for this year and discussions are on-going," said Snyder, who was very careful not to make any statements that might indicate what EPA may or may not do, despite the fact that time is running out.
When pressed by ACE members, Snyder said, "We're trying to leave no stone unturned in terms of exploring what we can do. Certainly, we are very committed to working within the constraints of the law to make sure any steps we take are not challenged or overturned."
Snyder noted that the waiver last year had never been done before and since it was announced April 12 last year by President Biden himself at an Iowa ethanol plant he does expect a level of involvement by the White House if it goes that route.
Listen to his remarks here:
ACE-DC 23 EPA Sr. Ag Advisor Rod Snyder (32:13)
Photos